You do not have to worry about food in Korea. Wherever you go whenever you want to eat stalls are just with-in reach.
STREET FOOD:
You can buy all kinds of food from the stalls on the street. From hotdogs to rice cakes. One of my favourites was Bungeoppang. Bungeoppang is a cake that is filled with red bean paste inside.
This is a bungeoppang. Inside is filled with red bean paste

www.google.ca
You can buy many kinds of food from the stalls
RESTAURANT:
There are many restaurants in Korea that you can choose. There are also canteens. You can choose to
cook your own food
at the table in some restaurants. You can squat on the floor while cooking or eating your food. Some Korean restaurants would like you to remove your shoes when entering. You put your shoes in a cubby shelf and go sit on the floor with a thin cushion. This is especially nice in winter because the floors are heated.
Pizza parlours are everywhere. Some call it pizza polar (by mistake) on their signage. They adapted the polar from the sound of Parlour. So they said Pizza Polar.
POPULAR FOOD IN KOREA:
KIM-CHI: Everybody is eating Kim-chi in Korea. It is the food you eat on the side. Kim-chi is a pickled cabbage and very spicy hot. You can eat it just like you eat your pickles.
BIBIMBAP: I would say this is their national dish. It is rice cooked in a stone bowl. They mix it with sliced carrots and and other Korean root vegetables. Usually they put raw egg on top of it. The hot bowl will allow the egg to cook right in front of you as you stir it. It also has sesame oil, Korean red pepper paste and of course Kim-chi on the side.
www.google.ca
DAK GALBI:
The sliced chicken is cooked with chili paste and then different things such as potato and cabbage have to be mixed with it.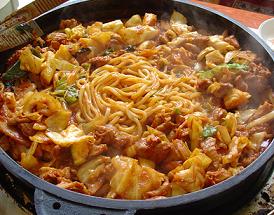 www.google.ca
RED HOT CHILI PASTE:
They almost always put red hot chili paste in their cooking. If you want a mild taste put a little bit. If you want a hotter taste then put more chili paste on your food. If you do not want it too hot be sure to tell the cook to put the pepper paste on the side!
If you have any favourite Korean food feel free to comment or share the recipe.
SPONSORED LINKS